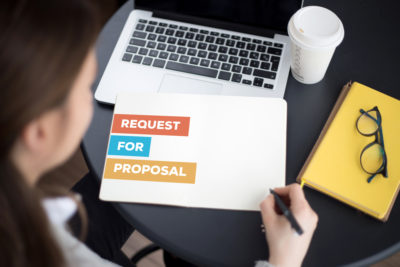 The cost of submitting a proposal to the government for a small business is huge, especially when you consider all the people who are involved in developing a proposal. There are proposal managers, tech writers, proposal coordinators, subject matter experts, pricing support, contracts managers – all these people play a part in doing proposal support.
So depending on your company, in terms of its size, your resources, your existing employees, your existing contracts, you may or may not have those subject matter experts and proposal professionals on hand – someone who can "shred" a proposal, meaning they take all the requirements the government has put in the solicitation or RFP, and put them in a document that will be the outline for your submission back to the government.
In the case where you do not have all these resources at the ready, and you're without the staff members with the expertise necessary to submit a proposal, you have a decision to make. Can you hire all these people and make them a permanent part of your staff? And by the way, these people are not cheap; they're experts at what they do.
Another thing to consider in hiring a proposal manager or technical writer is, do you have enough throughput in proposals to keep those folks busy and justify those costs on an annual basis? They'll have expectations that they're going to be around longer than just this one proposal. This is their career; they're in for the long-term.
So that is one option, to hire full-time employees, which is very expensive but may be the right decision depending on your circumstances. Or do you count on some other company to help you out, who may be willing to provide or lend you those resources, such as a partner company or friend, at least until you grow?
Or, as a third option, do you reach out to a consultant or proposal resource organization? These companies, like our friends at Proposal Helper, have proposal experts on their staff, and essentially rent them to you for a period of time while you work on your proposal.
Those are big questions that you have to ask, and it all depends on the depth of your wallet, and your needs. If it's a small task order, you might not need all of those resources, but somebody still has to write a compelling document that meets all the requirements of the solicitation that the government has put out. So you have to figure out where those people are coming from.
Do you have the expertise on staff, or can you hire the experts you need? Can you phone a friend? Is there another company that has those resources and are willing to let you use them? Or will you make a friend? Do you reach into your wallet again, on a temporary basis, to hire the services of a proposal resource organization?
These are all good options but you have to figure out which fits your small company.