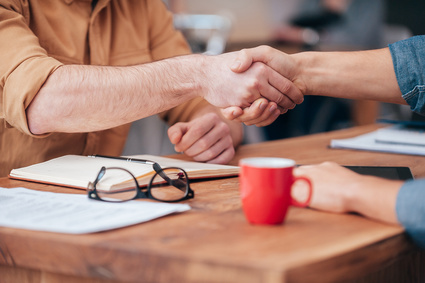 This is a guest post by Judy Bradt of Summit Insight.
Ever hear people complain that you've gotta have connections to win a contract? Well, they're right! Here are the five kinds of connections you need to get on the fast track to growing federal business!
Connect with passion.How excited are you about the difference you make for your federal buyers when they choose you instead of your competition? Bring the team together and refresh your key differentiators. Know how your past performance clearly shows your unique value to every federal buyer who is a true prospect. If you're not special, you shouldn't be there. If you are special, you need to know why, and articulate that in ways that each unique player cares about most. When you're charged up about that, you'll have the substance as well as the energy and determination to build the interest, enthusiasm and trust of your prospects on the road to "yes."
Connect with data. Past contract data is one of your best clues to the decision-makers you need to meet. Use my favorite super-powered tool, the Federal Procurement Data System, to dig in and figure out where your best prospects are. Then concentrate your efforts in those two or three agencies. Once you start making calls, one leads to another. The effort in each target agency, to develop each relationship, expands significantly once people start to open up to you. Expect to focus intense, methodical efforts on the right players, in the right layers, in your target agencies. Go deep.
Connect with intelligence.Ever meet someone you were determined you wanted to date? And you wanted to make the perfect first impression? You asked their friends about what they enjoyed, how they like to spend their time, so you could start a conversation and propose a date with confidence! You might not have succeeded the first time, but you kept finding ways to woo your sweetie until he or she said "yes!" Think of wooing federal buyers the same way – the more you find out about them, the easier the conversations get. Beyond choosing your focus agencies, dip back into the data for what it tells you about your federal buyer, who they do business with, and how they buy. You can have that first conversation with a lot more confidence because you're going in knowing things about them that they don't expect.
Re-connect with people you know. Invite your trusted friends, best clients and close contacts out for conversation and coffee. Let them know that you want to grow your federal business. You'll find they're eager to help you, with everything from references and resources to actual introductions! You just need to know what to ask them.
Connect with new people.Want to win more federal business? That takes the courage, time, and money to go out and talk to a lot more people you've never met. Does the thought of going out and meeting new people and talking to them feel uncomfortable? Good news: you're human. Just about everybody finds this challenging at least some of the time! The other four connections make that a lot easier.
Always remember: It's the connection between that people opens the gate.