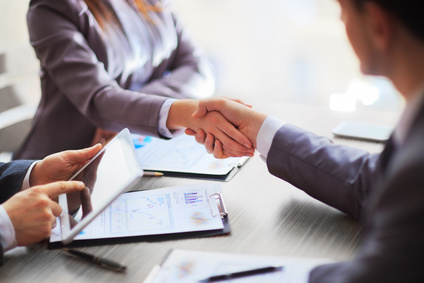 This is a guest post by Judy Bradt of Summit Insight. Judy and I recently partnered up for the webinar, Insights from the Mid-Tier: More Federal Q4 Tactics.
Looking for marketing strategies to ramp up your fourth-quarter federal sales? These five ideas are important year-round. For now, focus on the ones you're already using, and take a look at how you can move those into high gear. Save the others for your FY2017 plan!
Personal contact and office calls
Time after time, companies say that these are the most effective marketing strategies, if you can get in the door! Looking to break down barriers? Remember to reconnect with something as simple as sending thank you notes to your federal contracting officers and end users, and writing their managers to let them know what a great job they do.
Office visits are easier to get in October through May. But whenever you can get there, make sure your briefing is short – less than 15 minutes – and isn't a sales pitch or a standard capability briefing. Share highlights of your expertise, best practices, industry findings and case studies. Always say yes to a walk-about or site tour, and be sure to ask what they like best about the vendors they're working with now. Explain, "We only want to team with the best!"
Stand out tactics:
Make sure the business owner attends. That reinforces that everybody in the company is not 100% billable; you're established enough to have time and resources for business development.
Become the "go-to" resource. Say, "Make me your first call. Even if I don't do that, I'll find you someone who does. Call my mobile, nights, weekends, no problem. I'm here for you!" Show them you're looking out for them!
Share links to articles or resources on things you know they care about. This is a personal, one-to-one email, not a campaign newsletter. While you might run across something about industry best practices, also keep a lookout for a great recipe if you remember he loves to cook, or maybe a local canine agility event if you noticed how much she likes dogs.
Key: Show you care about what matters to them. Become their first call.
Association memberships
Show up! Participate regularly, not just once in a while. Have one or more members of your federal team become active, visible members. Show up in force at their meetings and events – that makes a big impact – and don't all sit together. Reach out to individual members to follow up.
Stand out tactics:
Submit content to organization newsletter or magazine.
Make a commitment for a whole year.
Designate a senior member of the company, especially the owner or VP, as your flagship representative.
Volunteer for a couple of the group's committees that relate to things you care about and enjoy, and benefit you and your company, personally and/or professionally. Golf tournament? STEM Scholarships? Use your creativity. Maybe you focus on something you think SHOULD happen and isn't being done, or could be done better.
Key: Value comes not from paying your fees…but from paying your DUES.
Assessment, white paper, or limited free product trial
Consistently offer a minimally-priced or possibly even free short assessment or product trial through drip email campaigns (a pre-written series of emails sent through an email service responder like MailChimp or Constant Contact). Be sure not to give away a service you normally sell! You can also offer a white paper, a reading list, or checklist.
An "assessment" can be a simple half-hour chat about needs. Be sure to make it a conversation; don't turn it into a sales pitch. If, after the half-hour, someone wants to explore working with you, you can always book a follow-up call – ideally, including colleagues or managers.
If a custom, one-on-one, assessment is feasible and is a service during which you would share substantive professional expertise, pricing it below $3,500 will let your federal buyer engage you sole-source and pay you immediately. What's not to like?
Stand-out tactics:
Offer a quick quote. Do a walk-through and some commentary (though remember to first validate what they're already doing, then educate them on the latest and greatest). Maybe offer an informal design sketch of what an installation or project might look like.
Draft a short white paper outline – literally, a project description on white paper or a document with no author information listed in the document properties – that a buyer who really likes you and is hoping for fiscal year-end money can turn around into a fast statement of work and hire you in a hurry.
Put together something for the 'Budget' – a quick needs analysis/scope of work.
Key: Get something on file for Q4 "Wish List" proposals.
About the author: Judy Bradt, CEO of Summit Insight, gives federal contractors the focus, skills and tools you need to transform your federal business and achieve the sales and partnerships you've always wanted. It's easier than you ever imagined. Call her at 703-627-1074 or visit http://www.summitinsight.com and find out more.
Stay tuned for Part Two of this post, where Judy reveals two more federal sales tactics for Q4.